Search by Drug Name, NDC or GPI-14
GPI Structure
What Is This Tool?
This tool allows you to look up the GPI (Generic Product Identifier) of any commercial drug by utilizing the NDC (National Drug Code) or drug name. You can also lookup or convert between:
NDC to GPI (i.e. NDC to GPI crosswalk)
GPI to Drug Name/Strength/Dosage Form (i.e. GPI to Drug crosswalk)
Drug Name/Strength/Dosage form to GPI (i.e. Drug to GPI crosswalk)
GPI to NDC (i.e. GPI to NDC crosswalk)
*Please note that the GPI to NDC crosswalk will yield multiple results*
You can also use this tool to simply look up drugs by NDC and GPI.
Example Searches
NDC to GPI/Drug: Type in the NDC '31722021490' to bring up results for the associated GPI and drug (sertraline 100mg tablets)
GPI to NDCs/Drug: Type in the GPI '39300030000320' to bring up results for the associated NDCs and drug (ezetimibe 10mg tablets)
Drug to NDCs/GPI: Type in the drug 'pravastatin 10mg' to bring up results for the associated NDCs and GPI
NDC Drug Lookup: Type in the NDC to display the associated GPI and drug name
GPI Drug Lookup: Type in the GPI to display the associated drug names (and list of NDCs)
An additional search you can run is partial GPIs.
For example, if you are looking for all the drugs classified under the six-digit GPI 'drug subclass' for SGLT2 Inhibitors, you can type in those six digits to return all results:
What Is GPI?
The Medi-Span Generic Product Identifier (GPI) is a proprietary classification system utilizing 14 characters to sort and classify drugs based on:

Drug Group
Drug Class
Drug Subclass
Drug Base Name
Drug Name
Drug Dose Form
GPI Name (includes strength)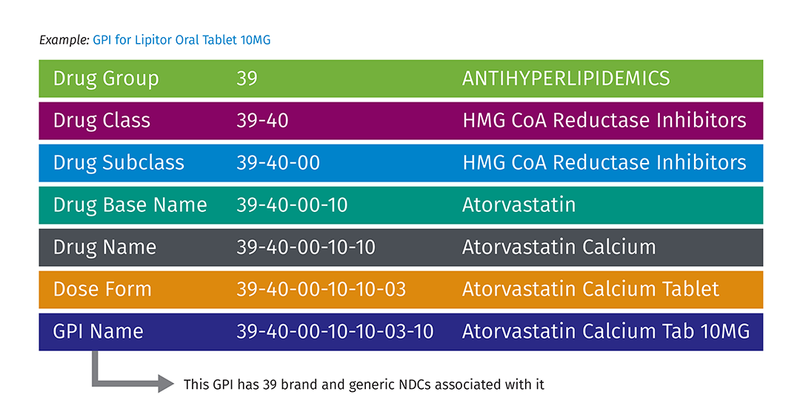 What Is NDC?
NDC stands for National Drug and is a unique product identifier used in the United States. It consists of 3 groupings of numbers that identify:
Manufacturer
Product (i.e. drug, strength, and dosage form)
Package (i.e. package size quantity)

GPI Vs. NDC
There are several differences between these two classification systems. The first is how these numbers are assigned.
NDCs (National Drug Codes) are assigned by the FDA (Food and Drug Administration)
GPIs (Generic Product Identifiers) are assigned as part of the Medi-Span classification system. Medi-Span is owned by Wolters Kluwer
In terms of how these classification systems work, the primary difference between them is:
NDC numbers identify specific drug products (e.g. fluoxetine 20mg capsules manufactured by Teva in a bottle of 100 capsules)
GPI numbers classify drugs, not products, and therefore, groups multiple products together (e.g. all fluoxetine 20mg capsule products will have the same GPI number).
Let's continue with using fluoxetine 20mg capsules as an example.
Fluoxetine 20mg capsules are manufactured by a multitude of manufacturers (e.g. Teva, Amneal, Aurobindo, etc...), in a variety of package sizes.
Since NDC numbers identify specific products, there are several different NDCs assigned to fluoxetine 20mg capsules.
However, there is only one GPI number assigned to the different fluoxetine 20mg capsule NDCs.
Below is an example search, using our tool, of fluoxetine 20mg capsules. You'll see there are several NDC numbers, but only one GPI.
It is also important to note that GPI numbers classify drugs based on the generic drug ingredient. So, brand-name drugs will have the same GPI number as their generic counterpart (e.g. the GPI for Prozac 20mg capsules is also 58160040000120).
Popular Drug Class/Category Searches
Popular Drug Searches
Questions?
If you have any questions about using this tool, please reach out to us!